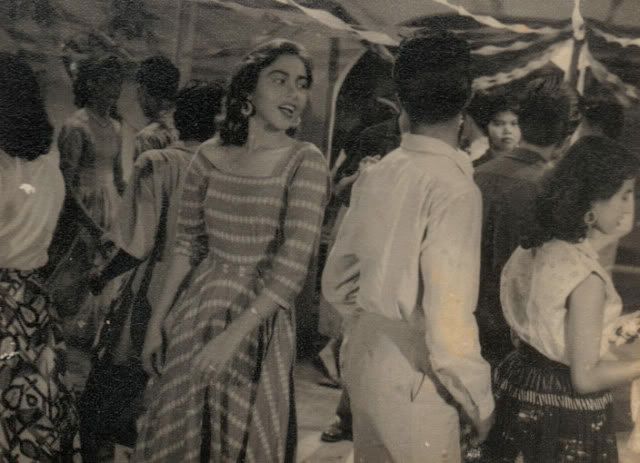 *An image from "Amsara Dara", and old film
In Jakarta's music scene, yesterday's trends are here to stay. From White Shoes & the Couples Company to Sore, Naif to The Upstairs, Goodnight Electric to Club '80s, Jakarta's most influential bands have forged their style from raiding their parents' (or their older siblings') wardrobes and record collections.
Call it by its many names: Retro, Vintage, Mod, or Revival. This nostalgia appeals to young people today in a way it didn't a decade ago when it would have been derided as "jadul" (out-of date, the kind of thing your parents would be into).
If this trend could be said to have an origin, I'd say it would have to be the Jakarta Art Institute (IKJ). In 1995, some IKJ students started a band called NAIF.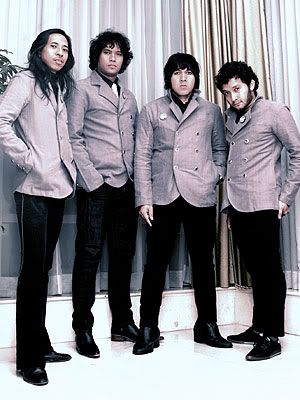 Their bell-bottom clad, leather-soled, Vespa-riding ways fused '60s mod with 1970s-swinger. This style and the band's energetic stage presence made them popular among fellow university students. They were also the first to run with the vintage concept in an MV.
What NAIF did for retro within the indie scene, Club '80s did for mainstream '80s revivalism. Also IKJ students, they hammed it up in baggy pants, loose shirts, big jackets, chunky trainers, headbands, they did everything but break-dance. It was more Duran Duran than RUN-DMC.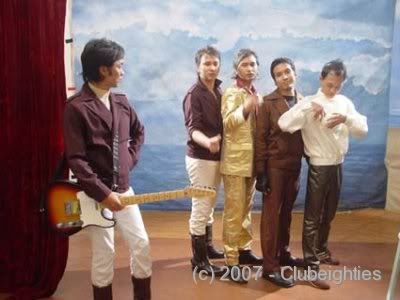 * A more recent pic of Club '80s — they've since updated their style
Many indie scenesters who grew up in the 1980s were smitten, which paved the way for the '80s motif. In 2002, a huge Jakarta sensation emerged in the form of The Upstairs, who married Punk Rock dandyism to the New Wave '80s concept. This quintet shook up the fashion scene in 2003. One of the things that's so catchy about The Upstairs was their quirky, edgy, mish-mash dress up. More so than Club 80′s, it was The Upstairs who definitely made '80s fashion cool again. I find that because of them, Jakarta youth are now brave enough to wear bright colors.
I've never seen anyone, especially from the underground scene, wear tight striped skinny pants, green All Stars, and a bright-colored tee with a washed out denim jacket. Only The Upstairs' Jimmy Multazam (AKA Jimmy Danger), a crossbreed of Nu-Rave and Punk, has the charisma to pull it off. He's also funny as hell.
But the group that really defines this nostalgic retro concept is White Shoes & The Couples Company.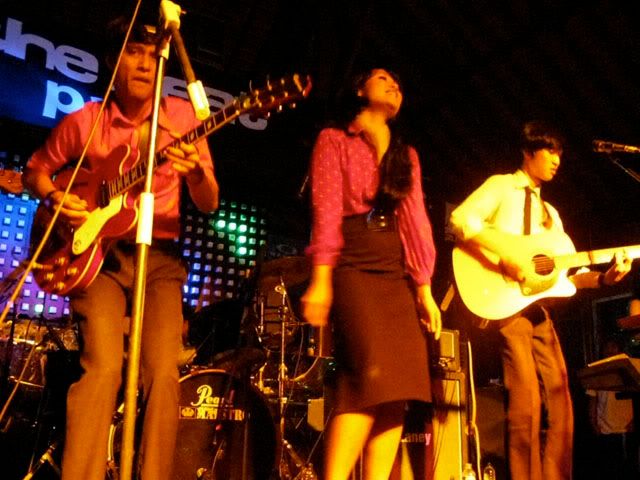 They formed in 2002, and are growing evermore popular over the years. More than any band I can think of, White captures the nostalgic imagination of Jakarta and it wasn't until they surfaced that retro fashion became mainstream norm. They are so influential in this scene (and beyond it).